Your Voice Wall
Your Voice Wall has been created by people with a learning disability and/or autism from across Milton Keynes, Reading and South Buckinghamshire. In collaboration with members across the three counties, Your Voice Wall showcases the incredible talents that have come out of the difficult times during COVID-19, including thoughts, voices, feelings, and emotions.
We hope that you are inspired by all the brilliant work.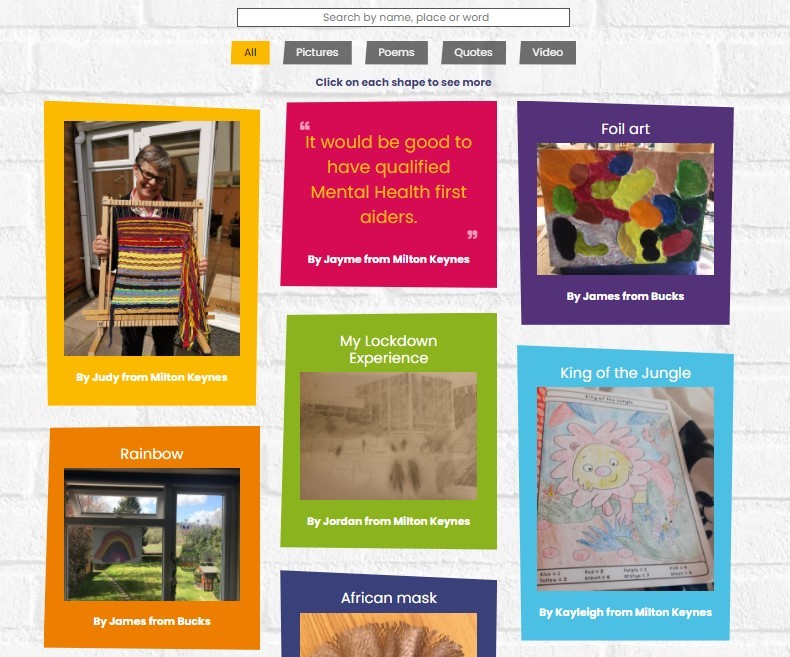 "I feel very proud to be part of the creation and passionate about gathering/editing the contents for the Your Voice Wall. It started slowly but we have now made great contacts and are getting more work from Talkback members and other people with Learning disabilities and/or Autism. Seeing the talent and what people have created during the lockdown/COVID-19 year is amazing! Giving those people the opportunity to share their art, poems and stories is a real privilege.
I am looking forward to adding more creative work to the new webpage and hope this will be part of the Talkback history for a very long time." – Yvette
Your Voice Wall handy tips
If you refresh the page it jumbles up, so you get to see different work each time you visit.
People can search to find a specific piece of work. You can search by name, by piece, by theme.