This outstanding piece of work, looks relatively simple. But as Alan Lawrence, Joe's dad, who also supervises the Accessible Workshop, explains, it is anything but:
"This piece was very complicated to make. It involved several pieces of timber that had to be laminated together, glued, clamped at odd angles, shaped and cut at some difficult angles. It was then sanded back to get a good standard of finish. All this was done under the brilliant supervision of Dave Haylor and Sue Woollatt in The Accessible Workshop.
"But the work didn't stop there. It then went to my  own workshop to be finished off by Joe, adding the colours and the lettering. This was because of the long drying time between coats and it's need to be in a dust free environment. It had a coat of undercoat/primer, a base colour coat in acrylic paint and two top coats of enamel colour paints. This was followed by three coats of yacht varnish."
Why make an RNLI Lifeboat?
The RNLI is a charity that Joe's Grandad supported for many years. When he died, the family donated the money collected in his memory to the RNLI. They, in turn, put his name on a brand new Shannon Class All Weather Lifeboat. That Lifeboat is numbered RNLI 13 – 46, named The Duke of Edinburgh, and is now stationed at Wells-Next-The-Sea in Norfolk.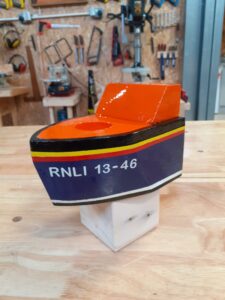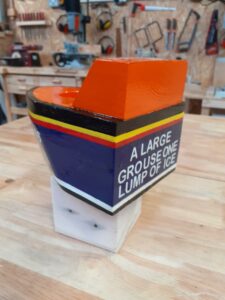 Joe is really proud of his Grandad's association with this lifeboat. So, a couple of months ago, Alan asked Dave Haylor and Sue Woolatt if they could help Joe make the bow of the boat and cut a hole in the deck for a vase. Dave took it on and came up with the design.  Then Dave and Sue guided and helped Joe right through the construction of the project. Sunday 20th August, would have been Joe's Grandads birthday. On this day the finished lifeboat was taken and placed by his memorial tablet by Joe and his brother.
Alan commented: "One of the reasons Joe is with Talkback is because he has no self-belief or confidence, he manages to get in himself and can be easily rocked. Dave and Sue have given him something with this boat build that he is incredibly pleased with and very proud to give his Grandad.  He's been showing lots of people pictures of it on his phone and the praise he has been given for producing a fantastic piece of work has really boosted his belief in himself.
"I'd like to say a big, big thank you to Dave and Sue. It can't be easy for them to be trained by me, work alongside me in the workshop and then have my son in their group. It shows how brilliantly The Accessible Workshop and Talkback works to support and encourage their members".