To mark Remembrance Day, our groups talked about why we hold a two minute silence on 11th November and how we use this time to remember the bravery and courage of those who fought in the World Wars. As well as to commemorate those who have served in the army since and are serving today.
We also talked about the importance of the poppy and how we wear these and place wreaths made of them as a mark of respect.
Instead of creating individual wreaths, our Outdoor Opportunities group decided to work as a team to create this wonderful wreath. They used stencils of their hands to make the green leaves, and individually painted them. The poppies were made from tissue paper and felt. Members took turns to stick their poppies on the wreath.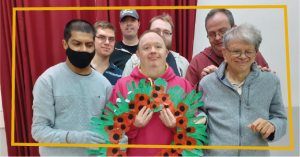 Our Personal Discovery Group, which meets in Aylesbury, has created this artwork, which is currently on display there.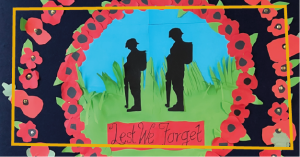 It's important for our members to be able to participate in Remembrance Day and to be able to pay their respects. We are extremely proud of the  tributes they have created.