We all know how to sing a rainbow, but do you know how important it is to eat one? Well, our Energise members found out by taking part in the rainbow challenge. They had a great time making their own food rainbow.  Whilst also thinking of lots of colourful fruit and veg they could add to their weekly shopping list. So, it really was a great way to make getting their 'five a day' fun.
What is Energise?
Energise is our free, 12-week NHS approved programme. It is designed to help those with mild learning disabilities lead a healthy lifestyle, lose weight, and get active.
Taking place in High Wycombe and Aylesbury we work with BHT Dietitians and Buckinghamshire County Council. Each session lasts two hours and is packed with a wide range of activities and professional advice. Energise started back in November and our members are nearly halfway through the course.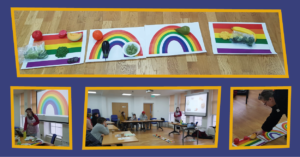 We've already had some great feedback
We are delighted with how Energise is going and have already received some wonderful feedback:
Claire Childs, a Community Support Coordinator for STEPS-Epilepsy (a specialist Supported Living and Domiciliary Care Service), commented: "Since joining the energise classes we have seen a huge difference in our clients who participate. They have energy and enthusiasm to do the exercises, and love to show us what they have been practicing.
"After the classes they tell all the staff about what they have learnt, and they get really excited to buy ingredients to make the recipes at home. For one client, keeping fit is vital in helping with his health condition.  Due to his progress, his surgery has been brought forward and the consultant is very pleased.
"We are seeing a fantastic impact on the clients and how they are learning to take care of themselves and their health. We really do hope that there are further courses in future. Thank you for all your hard work."
If you would like more information about Energise, please call Helen and Simon on 01494 434448 or email energise@talkback-uk.com