Art Therapy for People with a Learning Disability and Autism – Mental Health Awareness Week
Talkback promotes choice, opportunity and respect for all people with a learning disability and autism.  As well as working to change perceptions held within society. We want to ensure that the people we support are able to give a 'real yes' and a 'real no' which will be heard. And respected. In order for this to happen, we are committed to finding the way that each individual we work with can communicate. So they become in control of their own life. And this can often involve alternative methods of communication. For Mental Health Awareness Week, we share our insight into our Art Therapy service and how it can help.
What is Art Therapy and how can it help?
Art therapy is a form of psychotherapy that uses art media as its primary mode of expression and communication. Within this context, art is not used as a diagnostic tool. Rather as a medium to address emotional issues, which may be confusing and distressing. Many people with Autism or a learning disability struggle to process language and engage in conversation. Yet this does not mean that they do not have a rich and emotional inner life.
In fact, many individuals with autism have an extraordinary ability to think visually 'in pictures". So this is why using art as a method of communication can be so effective for them. People who are non-verbal, or otherwise struggle communicating, may not have had the chance to participate in arts activities. This can be because of misconceptions of their abilities, or things like large class sizes being a hurdle. So the chance art therapy gives for individuals to work one-on-one with a therapist, is likely to develop new modes of communication. Modes that would not otherwise have been discovered.
Our Sessions
At Talkback we are lucky enough to have a member of staff, Ashleigh, who is a qualified Art Therapist. Ashleigh has a master's degree in art therapy. Because of this, we now offer both one-to-one art therapy sessions, as well as group sessions. These utilise therapeutic activities. Ashleigh reports that as well as Art Therapy providing an alternate means of communication for the people she supports, it also acts as a method of relaxation. So helping to alleviate anxiety, build confidence and make people more self-aware.
In the time that we've been offering art therapy to our members, Ashleigh says that certain people have discovered a new form of communication. So their feelings can be 'heard' and expressed through the image-making. Other members who came into sessions feeling anxious have used art therapy as a safe space to explore their anxieties.  And so become able to calm their minds and focus.
The Future of Art Therapy
We have big plans for expanding our Art Therapy work. So we can further benefit and enrich the lives of those we support. One thing we are also working towards is community-based art projects. Such as public shows. So we can showcase the work of our members. As well as raise awareness of both the benefits of art. And, most importantly, how talented people with a learning disability and autism can be.
Download our Art Therapy Information here: Art Therapy – Talkback UK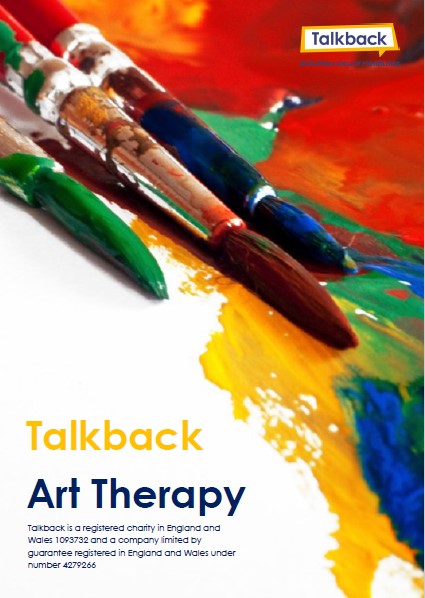 Read the full article originally published on Charity Today: https://www.charitytoday.co.uk/talkback-uk-art-therapy-as-communication-for-those-with-a-learning-disability/